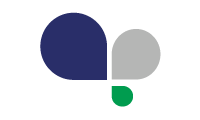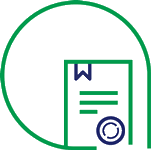 Sworn translation of official documents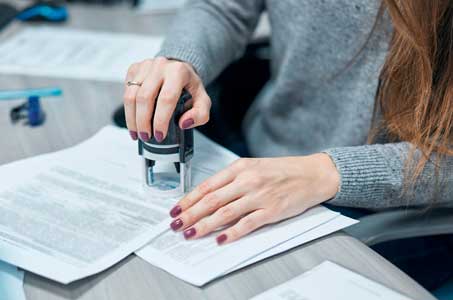 CHow can I retain the official status of my translated documents?
A certified translation, also called a sworn translation, is an official translation by an expert sworn translator certified by a Court of Appeal or a ministry. Expert translators add their seal and signature to the document to certify the accuracy of the translation. A certified translation is required for authenticated deeds and administrative documents.
Certified translations (done by sworn translators) are considered valid by the French government and in most foreign countries. The translated document is then considered to have official status. As an illustration, we regularly do the certified translation of articles of association or the certified translation of company registration certificates (K-bis).
Why choose ACSTraduction for your certified translation?
Anke Seyberth, President & CEO of ACSTraduction, is a sworn translator certified by the Court of Appeal of Nîmes since 1999 for certified translations into German, English and French. For other languages, the certified translation is done by our translator partners certified by a Court of Appeal in France or abroad. This wealth of experience has made it possible for us to become experts in the field of official translation. Our knowledge of the procedures of the French administrations and abroad gives us special insight into what is needed for your certified translation to be accepted by the authorities.
We also offer legalisation and Apostille services for our certified translations. Feel free to contact us if you have any questions.
Our services
Certified translation of a business contract, of a notarized deed, of a legal or administrative document : specifications, purchase deed and deed of sale, contract, certification, certified translation of company articles of association, official translation of an extract of a company registration certificate (K-bis), a work certificate, balance sheet, annual accounts, proxy and power of attorney, company register, general terms and conditions of sale…
Certified translation of a vehicle registration certificate, a transport, customs or administrative document,or of your purchase invoice : official translation of a carte grise, vehicle registration document, certification, insurance certificate…
Sworn translation of an employment contract, a pay slip, of a certificate of employment and of your employmentapplication : certified translation of an employment contract, CV, motivation letter, professional certificate, internship certificate, course certificate, work certificate…
Official translation of your diploma and your application for university registration : certified translation of academic transcripts, report cards, GNVQ, HND (BTS), A levels / baccalaureate, diploma, certificate…
Official translation of civil records and administrative documents : Certified translation of adoption documents, naturalisation documents, application for citizenship, official translation of bankstatements, insurance certificates, medical certificates, payslips, visa applications, imported vehicle registrations, vehicle registration documents, green card insurance…
Legal translation : Certified translationof a police certificate and criminal record check, divorce ruling, will, name change, power of attorney, sales contract, inheritance, notarial deed…
Translation of civil status documents and certificates : certified translation of your birth certificate, marriage certificate, residence certificate, death certificate, extract of criminal record, driving licence, family record book, passport, identity card, civil partnership certificate…
Specialised


translations

At ACSTraduction we work in more than 20 languages with the best translators, each one carefully selected from around the world.
Our objective:
To help you promote your company's reputation abroad.
DTP & Formats
Software &
Mobile apps
Online Translations
PDF Formats
& Images
Delivering documents that are ready to be used
We translate directly into your source documents/software and finalise the layout through our graphic design and DTP (desktop publishing) service, so we can deliver documents that are ready to be used.
DTP & FORMATS
Microsoft Office, Adobe Suite (Indesign, Photoshop), Web (HTML, XML, Java Resource) Files.
ONLINE TRANSLATIONS
Formats compatible with the back office of your Website – WordPress, Joomla, Woocommerce, Prestashop or in HTML.
Software & Mobile apps
String, .po, .pot, .xlif, .yml, .srt, .json, .html, Yaml ; .ocr, srt, etc.
PDF FORMAT & Images
Extraction of image .pdf file text and layout of the translation in your original format.
Our method
For us, quality begins with a thorough understanding of your needs and a rigorous work method.
To this end, our professional translation agency has adopted the European quality standard ISO 17100:2015, which sets the quality standard for translation services.

Contact
In order to meet your exact needs, we put particular emphasis on quick turnaround times and quality customer service.

Translation
Our best translators in over 20 languages

Proofreading
You can monitor the status of your translation project in real time through your secure online account on our dedicated platform.

Delivery
You will receive documents that are ready to be used
Quick turnaround times and quality customer service
DTP services
Our best translators in over 20 languages
Services provided according to the standard ISO 17100:2015
Confidentiality