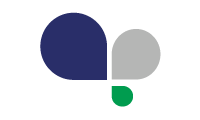 Website translation
WordPress with WPML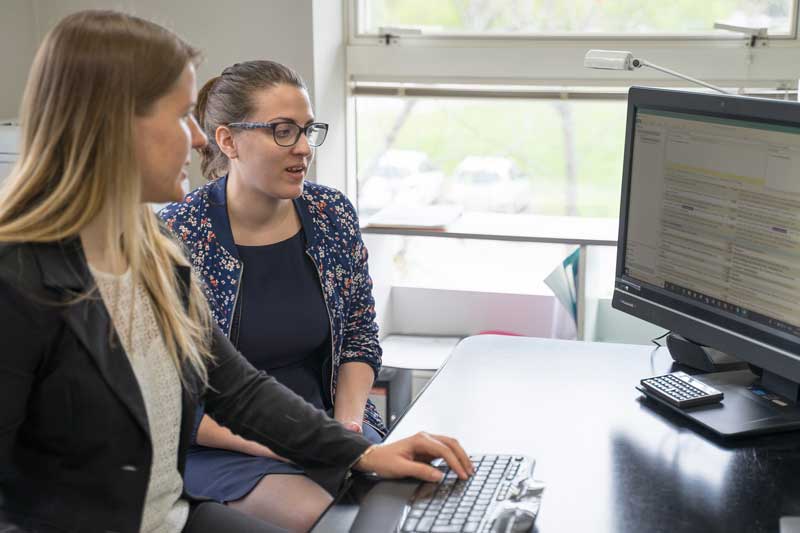 Do you need to translate your website, and are having trouble figuring out other apps' difficult and complex processes? Wondering how much translating your WordPress website could cost? Try our partner WPML's Word Count Tool ! It's easy as 1-2-3 – use the tool, send us your word count, and we'll send you a TOKEN and an exact quote!
Do you have a WordPress website, and you're wondering how to have it translated?
Search no more! Our partnership with WPML allows us direct access to the WPML technical team so that your WordPress website translation can go quickly and smoothly.
All you have to do is download the WPML plugin, then in Translation Management, under Available Translation Services, click on ACSTraduction.
We will send you an exclusive code you can use when downloading the plugin. Then just sit back and let ACSTraduction take care of the rest!
To download the WordPress WPML plugin and request ACSTraduction for the translation of your website, click on the following link:
Website translations in French – English – German – Spanish – Italian – Dutch – Portuguese…
What is WordPress website translation using WPML?
WPML is the leading translation plugin for WordPress websites.
It includes multilingual translation features that make it so you can replicate the content of your website in all of your chosen languages, in a way that is both adaptable and intuitive.
This plugin has an intuitive user interface that allows Webmasters to submit translation requests for specific pages, then have them returned already integrated into your website.
Our team of professionals translates your web content, then uploads your multilingual pages directly to your WordPress website!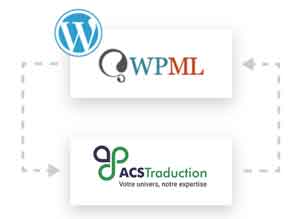 WordPress website translation in partnership with WPML
Our team here at ACSTraduction is proud to announce our partnership with WPML, the plugin that makes it possible to offer our translation services for WordPress website translation with a minimum amount of stress. This partnership enables us to use a new and innovative process to streamline your website translation, simplifying the reintegration of your new language onto your website, and shortening your turnaround time.
Our translation agency is the only professional translation agency in France to partner with this popular plugin in offering WordPress website translations in a number of different language combinations using WPML.
Our translators and project managers are always looking for ways to innovate and integrate new translation technology into our work processes, so your website translation is done using the best methods and technology on hand.
And now – ACSTraduction is proud to offer a WordPress website translation service that is both efficient and easy to use!

Specialised


translations

At ACSTraduction we work in more than 20 languages with the best translators, each one carefully selected from around the world.
Our objective:
To help you promote your company's reputation abroad.
DTP & Formats
Software &
Mobile apps
Online Translations
PDF Formats
& Images
Delivering documents that are ready to be used
We translate directly into your source documents/software and finalise the layout through our graphic design and DTP (desktop publishing) service, so we can deliver documents that are ready to be used.
DTP & FORMATS
Microsoft Office, Adobe Suite (Indesign, Photoshop), Web (HTML, XML, Java Resource) Files.
ONLINE TRANSLATIONS
Formats compatible with the back office of your Website – WordPress, Joomla, Woocommerce, Prestashop or in HTML.
Software & Mobile apps
String, .po, .pot, .xlif, .yml, .srt, .json, .html, Yaml ; .ocr, srt, etc.
PDF FORMAT & Images
Extraction of image .pdf file text and layout of the translation in your original format.
Our method
For us, quality begins with a thorough understanding of your needs and a rigorous work method.
To this end, our professional translation agency has adopted the European quality standard ISO 17100:2015, which sets the quality standard for translation services.

Contact
In order to meet your exact needs, we put particular emphasis on quick turnaround times and quality customer service.

Translation
Our best translators in over 20 languages

Proofreading
You can monitor the status of your translation project in real time through your secure online account on our dedicated platform.

Delivery
You will receive documents that are ready to be used
What our clients are saying about us
ACS traduction was proactive and quick to respond. Thank you!
EcoAct
Quick turnaround times and quality customer service
DTP services
Our best translators in over 20 languages
Services provided according to the standard ISO 17100:2015
Confidentiality